Bernadette Murekatete is one of six mother leaders who participated in the starters training for caregivers from Kigeme refugee camp.  She and other mother leaders gather around the table to learn how to develop toys from locally sourced and recycled materials such as bottle caps, rice bags and stones, as part of the UNICEF starters training on parenting and play based learning. "Despite our difficult situation in the camp, we need to keep our children be happy, healthy and protected," she says. "We need to mobilize parents to improve hygiene and safety of our children's environment."
Kigeme Refugee camp is managed by the Government of Rwanda in partnership with the United Nations Refugee Agency (UNHCR), and is home to approximately 20,000 refugees from the Democratic Republic of Congo (DRC). UNICEF in partnership with CARE International is providing early childhood development services for children between the ages of 0-6 years within the camp. At the camp, ECD services are divided into two components. The first component is home based ECD organized by the mother leaders who are elected by the community. Each mother leader is assigned to 10-15 households and is tasked with looking after children below the age of 4. The mother leader serves as a role model to other parents and provides support to parents in order to improve their nurturing practices while also acting as a liaison between parents and community health workers. A total of 1,500 babies and infants are targeted through home-based  care.
The second component looks at centre-based ECD services for children between 4-6 years. Thus far,  18 caregivers have received orientation about child development principles and how to engage young children in play, learning activities and song to stimulate their development and early learning capabilities. They also provide a cup of porridge daily to all 1,500 children attending the centre.
The 3 day training of caregivers and mothers also included a visit to an ECD centre in Kigali recognised for providing quality and holistic services for young children so that participants could observe play based learning in action. "The key message I took away was how important it is to welcome children with attention and love. I saw how caregivers hug children in the morning, listen to their stories with enthusiasm, and sing and jump with them. I was deeply touched; we must do the same with our children in the refugee camp," Bernadette added.
Also, present at the training were representatives from the Anglican Church, which is partnering with UNICEF and CARE in supporting the refugees through the Kigeme Diocese. "This training is very important. We are learning how parents can help children, especially those children that will grow up with difficult circumstances," says Jean d'Arc Kamaraba, Education Office for Kigeme Diocese Anglican Church. Bernadette and other participants reiterated their support for the training, "I hope we continue to share and enhance our knowledge of care and development for young children and the role of parents despite our difficult circumstances."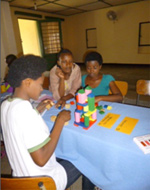 Early childhood development is an emerging priority in Rwanda. With support from UNICEF, the National Early Childhood Development (ECD) Policy was developed and adopted by Cabinet in 2011. The National Policy provides a framework for an integrated approach to the development of young children.  UNICEF is supporting the government's work to increase access to ECD services through modelling physical infrastructure for the ECD centres and a package of services, which will be scaled up throughout the country as well as capacity building of caregivers and ECD professionals throughout Rwanda.