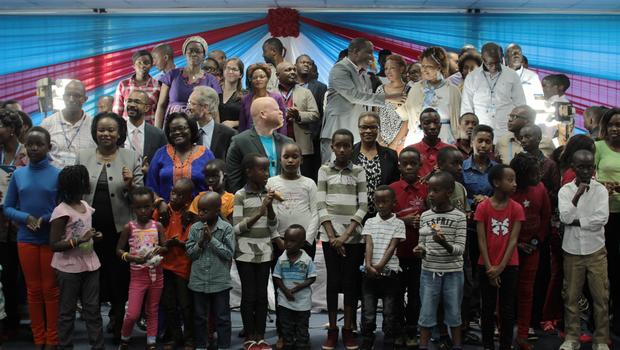 Staff members of the One UN Rwanda and their families celebrating World AIDS Day. 
In December 2015, staff members of the One UN in Rwanda as well as their family members celebrated World AIDS Day at a half-day event. The global theme of World AIDS day this year was "On the Fast-Track to end AIDS as a public health threat by 2030" and the national theme specifically for Rwanda was: "It's everyone's responsibility to prevent, treat HIV among our children and adolescents". The UN celebrations were in line with both the global and the national themes and intended to raise awareness on HIV among UN staff and their families.
The celebrations of World AIDS Day by the One UN in Rwanda included a theatre performance, music and dance, as well as speeches and group discussions. It was organised by the team of UN Cares and UN Plus in Rwanda. UN Cares is designed to reduce the impact of HIV in the workplace by supporting universal access to a comprehensive range of benefits for all UN personnel and their families—including prevention, treatment, care and support. UN Plus is a global group of United Nations staff who are living with HIV.
Several key messages discussed at the event include HIV testing and counselling as a first step and entry point for care and treatment, and that everyone is encouraged to go for testing and know their HIV status. Furthermore, treatment is available for free in Rwanda, and earlier enrolment on treatment has many benefits. There was extensive discussion about the importance of discussing sexuality education within families and the role of parents to talk about issues such as HIV, sexual and reproductive health, and sexual and gender-based violence, with their children. Finally, everyone was reminded of their responsibility to address stigma and discrimination associated with HIV.