Economic Growth and Environment
Rwanda has long been committed to tackling the issue of climate change and sustainable development. The government ratified the United Nations Framework Convention on Climate Change in 1998, the Kyoto Protocol in 2003, and in 2011 launched the Green Growth and Climate Resilience Strategy (GGCRS) to transform Rwanda into a developed, climate resilient, low carbon economy by 2050.
On July 24, 2015, the Ministry of Natural Resources with support from the One UN in Rwanda hosted a high level policy dialogue on the progress Rwanda has made since the 2011 launch of the GGCRS, and discussed the recommendations to be considered to ensure success. The dialogue brought together representatives from the Government, private sector, development partners, and research institutions. The Strategy calls for action towards sustainability  in all aspects of development, for example in the construction of roads and the architectural design of buildings, calling on citizens to use gas stoves instead of firewood, and the reduction of carbon-dioxide emissions across all industries. The GGCRS is structured to completely shift Rwanda towards a sustainable, green economy.
One aspect of the strategy calls for a shift away from subsistence agriculture to commercial income generation, as Rwanda has limited arable land. 72% of the population of Rwanda depends on subsistence agriculture, close to 85% of which are women. For this shift to take place, more jobs must be created and skills enhanced to enable people to diversify their sources of income.
Since the launch of the GGCRS, the government has implemented stricter maintenance requirements for vehicles. The purpose of this initiative is to limit emissions of vehicles and facilitate safer driving conditions. Prior to the Strategy, 23% of vehicles on the road failed their maintenance inspection when brought in for emissions and other technical compliance testing. Today that number has decreased to 7%.  Progress is being achieved, but there is a need for proper tools of monitoring and reporting from Sector Ministries to the coordinator Ministry of Natural Resources to ensure further improvements.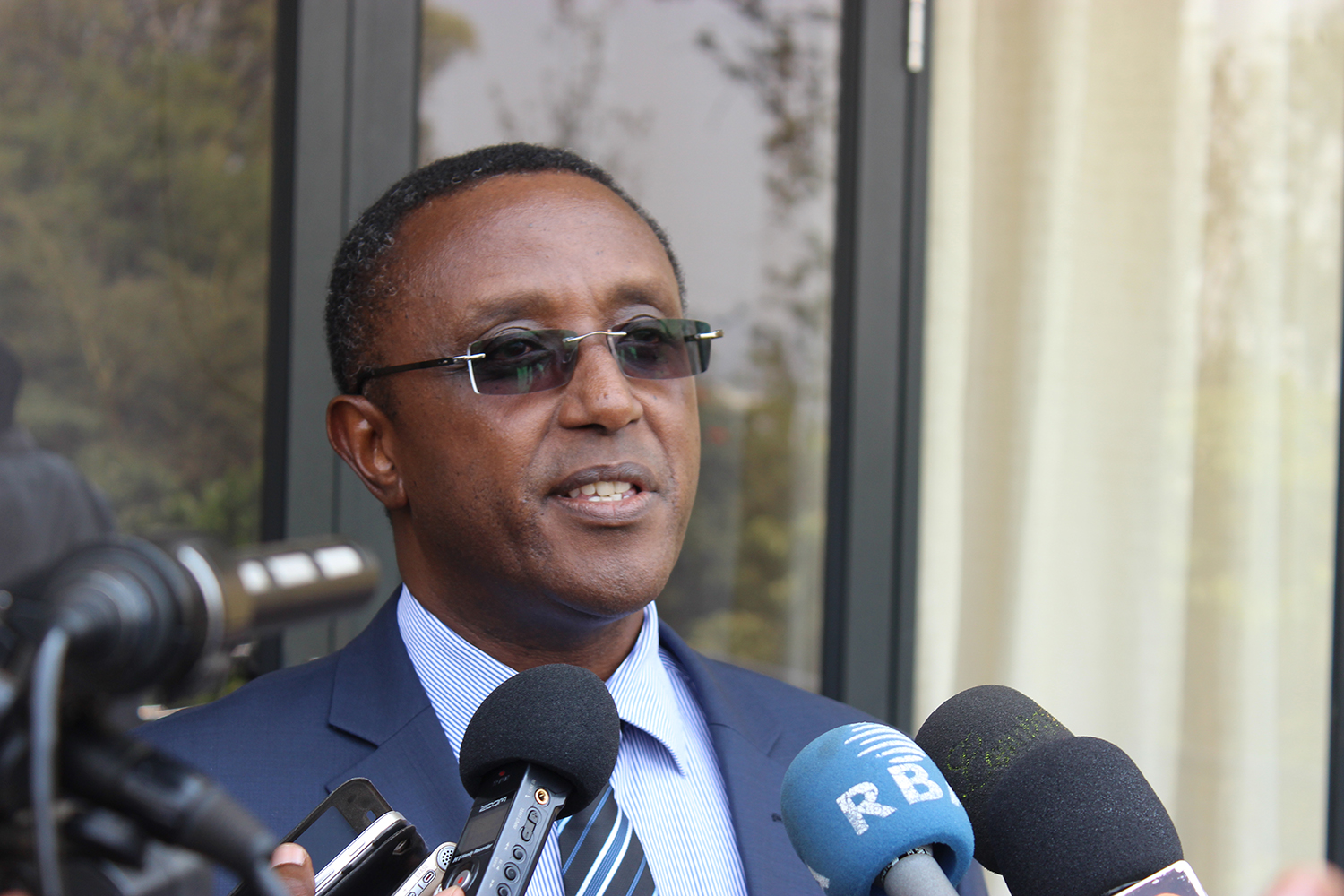 Above: Hon. Minister of Natural Resources Dr. Vincent Biruta
The Minister of Natural Resources, Hon Dr. Vincent Biruta and the One UN Resident Coordinator, Mr. Lamin Manneh emphasized the importance of better coordination and collaboration with stakeholders, with a focus on systematic reporting and regular monitoring meetings. "Rwanda is a country with robust development policies, and has taken innovative initiatives such as GGCRS before it was prioritized in the international community… but we need a robust reporting system and the tools to capture what is fully going on, "stated Mr. Manneh.  
Moving forward, it was recommended that each Sector Ministry with a mandated responsibility in the GGCRS implementation appoint a focal person to facilitate the collection of more refined data. It was also recommended that all sectors need to cooperate and collaborate through holistic planning processes for the smooth implementation of the GGCRS.  Natural Resources and Sector Policies must also undergo a comprehensive review to ensure sustainability is considered at all times. With a fine tuned mechanism for reporting within the government and its partners, greater progress can be made in the implementation of the GGCRS.
Resource-efficient industrial initiatives from the private sector are also making meaningful strides towards a green economy in Rwanda. Since 2011, 51 industries have been trained in sustainable best practices, an additional 47 industries have been audited, and after only 2 years Rwf 201,303,900 has been saved after implementing best practices across 7 industries. Recommendations from the private sector include continued work to strengthen the current institutional framework through sharing information on green technology, increasing advisory service providers and enhancing access to finance to adopt green technologies.
These recommendations are all possible realities. In early July 2015, the Ministry of Natural Resources was accredited to access the Green Climate Fund as one of only 20 countries globally. This means greater access to funding for industries and green economy projects to keep Rwanda on the right path in combating climate change.
The Green Growth and Climate Resilience Strategy is also directly aligned with the new Sustainable Development Framework in the post 2015 agenda of the UN. The new Sustainable Development Goals, to be launched worldwide on September 25, 2015 have 6 of 17 goals dedicated to addressing the challenges affecting our planet. Over the next few months, Ministries, NGO's, and community groups in Rwanda will work to mainstream these goals into their development strategies, and the existing Green Growth Framework. This effort places sustainable development and climate resilience as a priority throughout Rwanda.
The policy dialogue highlighted the accomplishments that Rwanda has made towards a green economy, but also the challenges that must be overcome. The country is leading the charge with innovative policies and programs; however more coherent methods of measurement and evaluation must be implemented.  As Rwanda works to achieve a green economy, the UN will provide support, both in the implementation and monitoring of this strategy to transform Rwanda's economy into a developed climate-resilient, low-carbon economy by 2050.