"Gender equality is not only a women's issue, it is a human rights issue that affects all of us- women and girls, men and boys. We all benefit socially, politically and economically from gender equality in our everyday lives. When women are empowered, the whole of humanity benefits. Gender equality liberates not only women but also men, from prescribed social roles and gender stereotypes."
–One UN RC Mr. Lamin Manneh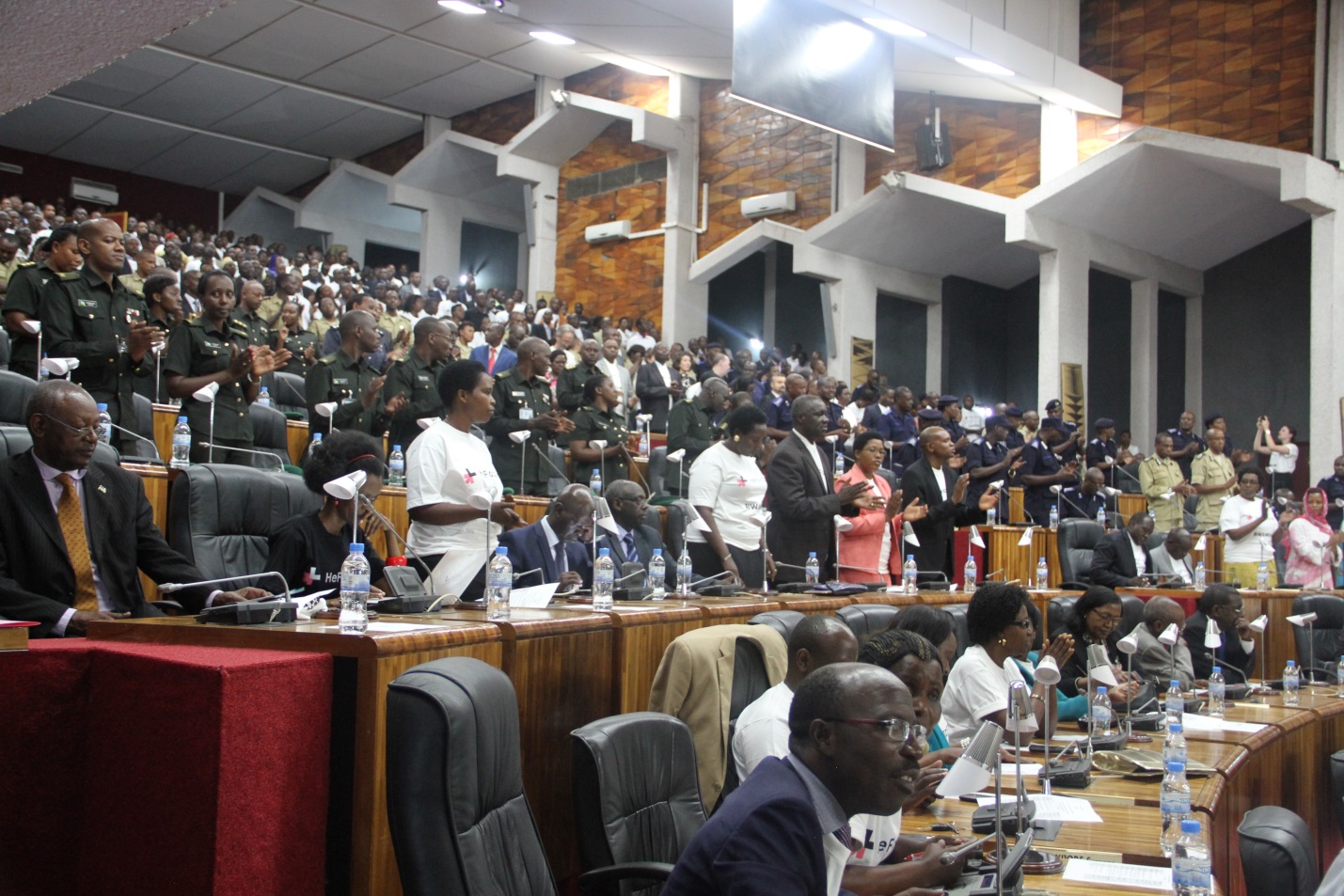 Parliament was overflowing Friday morning to celebrate the launch of the HeForShe IMPACT 10x10x10 commitments in Rwanda. 
In the midst of an energetic audience of Honorable Members of Parliament and Senators including the President of the Senate, Honorable Ministers, Senior Government Officials, distinguished members of security organs, representatives from international and regional organizations including 14 UN Agencies, women and youth organizations, representatives of civil society and universities, district mayors, the private sector and the media, the HeForShe IMPACT 10x10x10 commitments in support of gender equality were launched Friday September 18, 2015 in the National Parliament of Rwanda.
The HeForShe campaign is a global solidarity movement for gender equality, developed by UN Women and spearheaded by men in support of justice and equality for women and girls. The IMPACT 10x10x10 campaign is a framework for bold, ambitious, realistic and game-changing commitments to advance and achieve gender equality in Rwanda. There are three goals under the IMPACT campaign in Rwanda: bridge the gender digital divide and attain parity in ICT access, usage and innovation by 2020; triple girls' enrollment in Technical & Vocational Training to advance women's employment opportunities; and to eradicate Gender-Based Violence (GBV) in all its forms.
The Honourable Makuza Bernard, President of the Senate of Rwanda, Minister of Gender, Oda Gasinzigwa, and One UN Resident Coordinator Mr. Lamin Manneh imparted to the audience an inspiring message for each man and boy to take on the role of being HeForShe champions in their own lives. 
As critical partners in the journey towards gender parity, men in the audience were called upon to join the movement online, raising the number of men and boys committed to HeForShe in Rwanda to 2,697. At the beginning of the Rwanda HeForShe campaign in January, only 105 men and boys signed up online as champions of gender equality.
In a speech given by One UN Resident Coordinator Lamin Manneh, he stated that "the current generation of youth is better positioned and has more opportunities than previous ones to help shape development and advance gender equality, with greater access to information, technology, education and training." This message was brought to life by youth producers and singers Manzi Robert, Izere Daniel, Mucyo David and backup singers Weys Victoria and Ntwali Eric, who collectively produced and performed live at the launch their own HeForShe song, Raise Your Voice. Together they are using music to inspire generations of champions of gender equality. 
The launch event additionally featured an outdoor exhibition to showcase Rwanda's success thus far in combating GBV, and encouraging women to enroll and work in Information, Communication, Technology and Vocational Training classes and sectors. The government's commitment to these initiatives have been highlighted over the past few months, recently at the KICD Command Post exercise "Africa UNITE II" where H.E. President Paul Kagame condemned GBV and emphasized the need for security organs to prioritize the issue.  
After many months of social media campaigning, awareness events and outreach, HeForShe and IMPACT 10x10x10 has reached their next stage of development in Rwanda. Endorsed by the Government under the leadership of HeForShe Champion H.E. President Paul Kagame, gender equality in Rwanda has been made a top priority within the Government, One UN, and the wider society. After a successful launch, the One UN is excited to continue to work with MIGEPROF and the Government of Rwanda on initiatives to help achieve the IMPACT goals, thereby advancing the development of Rwanda.